NESCent in your neighborhood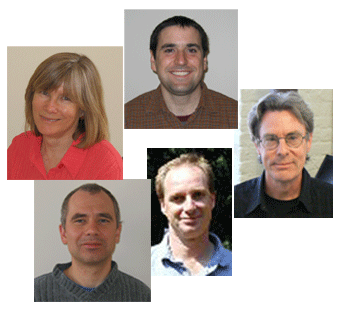 NESCent was at:
Evolution

Society for the Study of Evolution
June 16-20, Christchurch, New Zealand
NESCentís Director, Kathleen Smith attended.
Society for Molecular Biology and Evolution
June 24-28, Nova Scotia, Canada
Todd Vision, Hilmar Lapp, Xianhua Liu, and Surya Dhullipalla represented NESCent with a booth and poster presentations.
NESCent directors will be at the following meetings this summer:
Plant Biology & Botany 2007 Joint Congress
July 7-11, Chicago, IL
NESCent will have an exhibit booth. Todd Vision, Associate Director of Informatics, will be present.
Mechanisms of Genome Evolution
American Genetic Association
July11-13, Bloomington IN
NESCent will have a poster. Greg Gibson, Associate Director of Education and Outreach, will be present.
8th International Congress of Vertebrate Morphology
July 16-21, Paris, France
NESCent will have a poster. Kathleen Smith, NESCentís Director, and Joel Kingsolver, Associate Director of Science and Synthesis, will be present.
15th Annual International Conference on Intelligent Systems for Molecular Biology (ISMB)
July 21-25, Vienna, Austria
NESCent will have a poster and Hilmar Lapp, Assistant Director for Informatics, will be present.
NESCent will also be at these upcoming Fall meetings:
Society for the Advancement of Chicanos and Native Americans
Oct. 11-14, Kansas City, MO
NESCent is sponsoring a day long session on careers in Evolution and Ecology and will have a booth.
Society for Vertebrate Paleontology
October 17-20, Austin, TX
Kathleen Smith will be attending.
National Association of Biology Teachers
November 28 Ė December 1, Atlanta, GA
Kathleen Smith and Greg Gibson will be at the NESCent booth, the NESCent presentation and the Evolution Symposium.
Come meet the directors at any of these meetings to learn more about NESCent or discuss project ideas. NESCent maintains a list of
meetings and events in evolutionary biology
, with information about NESCent representation. To add an event, contact the webmaster.
[
more
]